"That jazz" is referring to a miracle in music that happened in the beginning of 1900s when people from a big variation of ethnical and cultural background inspired each other to play in a new fashion. Luckily all this coincided with the development of new inventions like the phonograph recordings, photography and film so that it became in part documented and still can be enjoyed today. In my early teens I happened to be exposed to "that jazz" and it struck a string deep within me that has kept vibrating ever since.
Paul Bocciolone Strandberg

Latest post:
Radio Swingtime 61 – 22 juni 2001
Spelare från högsta ligan som Sidney Bechet, Duke Ellington och Jack Teagarden sida vid sida med trotjänare som bröderna Dorsey, Kid Ory, Buster Bailey och lovande s.k. påläggskalvar som Bobby Hackett och Reuben Reeves. Och därbak, lite ruffiga Charlie Patton och Memphis Jug Band. Så skulle dagens program kunna beskrivas. Mycket Nöje!
61. BLUE CLARINET STOMP – del 1
(1:00:39)
Blue Clarinet Stomp (Andy Kirk)
Call of the Delta (Buster Bailey)
Shanghai Shuffle (Buster Bailey)
I'm Coming Virginia (Ethel Waters)
Pass Out Lightly (Bennie Moten)
Ding Dong Blues (Bennie Moten)
Moten Stomp (Bennie Moten)
Egyptian Fantasy (Sidney Bechet)
Baby Won't You Please Come Home (Sidney Bechet)
Stone Pony Blues (Charlie Patton)
Santa Claus Blues (Gult Coast Seven)
Keep Your Temper (Gult Coast Seven)
Perdido Street Blues (New Orleans Wanderers)
Gatemouth (New Orleans Wanderers)
Papa Dip (New Orleans Wanderers)
Perfect (Eddie Lang)
61. BLUE CLARINET STOMP – del 2
(1:00:23)
Song of the Cotton Field (Duke Ellington)
Birmingham Breakdown (Duke Ellington)
East St. Louis Toodle oo (Duke Ellington)
You Rascal You (Jack Teagarden)
That's What I like About You (Jack Teagarden)
I Got the Ritz from the One I Love (Jack Teagarden)
Muskrat Ramble (Kid Ory)
Papa Skag Stomp (Reuben Reeves)
Bugle Call Blues (Reuben Reeves)
Sun Brimmers Blues (Memphis Jug Band)
But Not for Me (Bobby Hackett)
Let's Do It (Dorsey Brothers)
My Kinda Love (Dorsey Brothers)
Mean to Me (Dorsey Brothers)
Button up Your Overcoat (Dorsey Brothers)
Picture of the day:
Available now: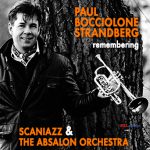 I'm proud to present a new double-CD in co-operation with jazzarkivet. The production is a retrospective collection of recordings and presents two of my most successful bands, Scaniazz (CD 1) and The Absalon Orchestra (CD 2), covering the period from 1975 until 1988 (…) continue readingRemembering CD