"That jazz" is referring to a miracle in music that happened in the beginning of 1900s when people from a big variation of ethnical and cultural background inspired each other to play in a new fashion. Luckily all this coincided with the development of new inventions like the phonograph recordings, photography and film so that it became in part documented and still can be enjoyed today. In my early teens I happened to be exposed to "that jazz" and it struck a string deep within me that has kept vibrating ever since.
Paul Bocciolone Strandberg


Latest post:
Radio Swingtime 96 – 31 maj 2002
Vi börjar med att lyssna på några kända New Orleans-klarinettister Albert Nicholas och Johhny Dodds i mindre respektive större sättning och sedan deras gemensamma lärare Lorenzo Tio Jr. Därefter glider vi så småningom över i ett annorlunda upplägg; Eftersom fotbolls VM stod för dörren (2002 i Japan och Sydkorea) blev det intressant att kasta en blick på förhandstipsen och samtidigt låta de konkurrerande nationerna representeras av utövare av tidig jazz. Alltså Europeiska och Sydamerikanska inspelningar för ovanlighetens skull. Missa inte detta!
96. GET HAPPY – del 1
(1:05:22)
Get Happy (Red Nichols)
Ol' man River (Albert Nicholas)
Way down Yonder in New Orleans (Albert Nicholas)
Come On and Stomp (Johnny Dodds)
After You've Gone (Johnny Dodds)
When Erastus Plays His Old Kazoo (Johnny Dodds)
Joe Turner Blues (Johnny Dodds)
Bad Bad Mama (Willie Jackson)
Bright Star Blues (Piron's New Orleans Orchestra)
Sud Bustin' Blues (Piron's New Orleans Orchestra)
Honeybunch (Fletcher Henderson)
When Spring Comes Peeping Through (Fletcher Henderson)
The Japanese Sandman (Frank Trumbauer)
Parce que je vous aime (Jean Sablon)
Le même coup (Jean Sablon)
96. GET HAPPY – del 2
(54:32)
Crazy Banjo (Orchestra Jazz Columbia)
Ludovico (Orchestra Jazz Columbia)
Billy Goat Stomp (Portena Jazz Band)
Coal Cart Blues (Portena Jazz Band)
We Ain't Got Nothin' to Loose (The Rhythmic Eight)
Way Back When (The Rhythmic Eight)
You're Gonna Be Young (T.O.G.O.Dansorkester)
Am I Blue (Stan Hasselgard)
Jazz Lips (Peruna Jazzmen)
I'm Watching the Clock (Jacobi's Bottomland Orchestra)
Sitting on Top of the World (Clarence Williams)
I'm Going Back to My Used to Be (Bessie Smith)
My Blue Heaven (Francisco Alves)
My Angel (Francisco Alves)
I Can't Give You Anything but Love (Francisco Alves)
Picture of the day:
Available now: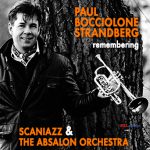 I'm proud to present a new double-CD in co-operation with jazzarkivet. The production is a retrospective collection of recordings and presents two of my most successful bands, Scaniazz (CD 1) and The Absalon Orchestra (CD 2), covering the period from 1975 until 1988 (…) continue readingRemembering CD