"That jazz" is referring to a miracle in music that happened in the beginning of 1900s when people from a big variation of ethnical and cultural background inspired each other to play in a new fashion. Luckily all this coincided with the development of new inventions like the phonograph recordings, photography and film so that it became in part documented and still can be enjoyed today. In my early teens I happened to be exposed to "that jazz" and it struck a string deep within me that has kept vibrating ever since.
Paul Bocciolone Strandberg


Latest post:
Radio Swingtime 89 – 8 mars 2002
Troy Floyd hade ett band i Texas på 20-talet som hade turen (i synnerhet tur för oss sentida musikälskare) att bli inspelat. I sättningen finns New Orleans-trumpetaren Don Albert. På en helt annan plats i en helt annan tid fick ett av de viktigaste av de band som lyckades åstadkomma den tidiga jazzens återkomst i Europa gott om inspelningsmöjligheter. Humphrey Lyttelton's band fick chans att gå in i inspelningsstudion en gång i månaden under ett helt decennium. Vi lyssnar på det och vi hör också berättas hur Jelly Roll Morton genom sin blotta uppenbarelse skrämde livet av pianisten Mary Lou Williams – och mycket annat i dagens program. Missa inte!
89. CHANT OF THE WEED – del 1
(1:00:26)
Chant of the Weed (Don Redman)
Beer Garden Blues (Clarence Williams)
The Right Key But… (Clarence Williams)
Dispossessin' Me (Clarence Williams)
Snag It (Al Turk)
One O'clock Blues (Al Turk)
Rag-Time Soldier Man (Gene Greene)
Dreamland Blues 1 (Troy Floyd)
Dreamland Blues 2 (Troy Floyd)
Wabash Blues (Troy Floyd)
That's Grandma (The Rhythm Boys)
I'll Get By (Bing Crosby)
Each Day (Jelly Roll Morton)
Strokin' Away (Jelly Roll Morton)
Blue Blood Blues (Jelly Roll Morton)
89. CHANT OF THE WEED – del 1
(58:41)
I'm More Than Satisfied (Bix Beiderbecke)
Clorinda (Bix Beiderbecke)
Three Blind Mice (Bix Beiderbecke)
Nobody in Town Can Bake (Bessie Smith)
Nineteen Nineteen March (Humphrey Lyttelton)
Trouble in Mind (Humphrey Lyttelton)
Buddy's Habit (Humphrey Lyttelton)
Daylight Saving Blues (Gulf Coast Seven)
Georgia's Always on My Mind (Gulf Coast Seven)
Jelly Roll Stomp (Frank Melrose)
That's My Home (Louis Armstrong)
Snag It (Bunk Johnson)
West End Blues (King Oliver)
Everybody Loves My baby (Tommy Ladnier)
Walking My Baby Back Home (Benny Goodman)
Picture of the day:
Available now: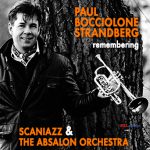 I'm proud to present a new double-CD in co-operation with jazzarkivet. The production is a retrospective collection of recordings and presents two of my most successful bands, Scaniazz (CD 1) and The Absalon Orchestra (CD 2), covering the period from 1975 until 1988 (…) continue readingRemembering CD