"That jazz" is referring to a miracle in music that happened in the beginning of 1900s when people from a big variation of ethnical and cultural background inspired each other to play in a new fashion. Luckily all this coincided with the development of new inventions like the phonograph recordings, photography and film so that it became in part documented and still can be enjoyed today. In my early teens I happened to be exposed to "that jazz" and it struck a string deep within me that has kept vibrating ever since.
Paul Bocciolone Strandberg


Latest post:
Radio Swingtime 73 – 19 oktober 2001
Gripande ögonvittnesskildringar av trumpetaren Ward Pinkett och kornettisten Joe "King" Oliver förmedlas och i övrigt hör vi musik med förutom nämnda två, sådana centralgestalter som Louis Armstrong, Bix Beiderbecke, Bessie Smith och Big Bill Broonzy. Vi hör också på tidig Muggsy Spanier och mindre kända musiker som Reuben Reeves och Jimmy O' Bryant. Dessutom mycket annat!
73. SHAKE YOUR HIPS – del 1
(1:01:57)
Shake Your Hips (Jack Teagarden)
Blue-Eyed Sally (Jimmy O'Bryant)
Three J Blues (Jimmy O'Bryant)
I've Found a New Baby (Clarence Williams)
Low Down Rhythm (Reuben Reeves)
Gotta Feelin' for You (Reuben Reeves)
Blue Sweets (Reuben Reeves)
Love Me Tonight (Anette Hanshaw)
Thou Swell (Bix and His Gang)
Come Back Sweet Papa (Louis Armstrong)
Georgia Grind (Louis Armstrong)
Oriental Strut (Louis Armstrong)
Down Hearted Blues (Bessie Smith)
Mobile Blues (Bucktown Five)
Really a Pain (Bucktown Five)
Chicago Blues (Bucktown Five)
72. HARLEM – del 2
(53:07)
Deep Purple (Bing Crosby)
Peg Leg Stomp (Hal Kemp)
Blue Rhythm (Hal Kemp)
Frances (Jelly Roll Morton)
Boogaboo (Jelly Roll Morton)
Rainbow Dreams (Eddie Lang)
How You Want It Done (Big Bill Broonzy)
Showboat Shuffle (King Oliver)
Every Tub (King Oliver)
Oh Lizzie (Johnny Dodds)
Passing Time with Me (Smith Ballew and his Orchestra)
You're Simply Delish (Smith Ballew and his Orchestra)
There's Something Missing in Your Eyes (Smith Ballew and his Orchestra)
Picture of the day:
Available now: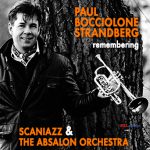 I'm proud to present a new double-CD in co-operation with jazzarkivet. The production is a retrospective collection of recordings and presents two of my most successful bands, Scaniazz (CD 1) and The Absalon Orchestra (CD 2), covering the period from 1975 until 1988 (…) continue readingRemembering CD