Som sagt blev det ett något blandat mottagande i "Old England". Alla kan ju inte älska alla här i världen och strax före jul 1978 fick vi ytterligare ett bevis för den sanningen. Jag blev uppringd av "Oscar med C", en äldre välkänd pianist som nu hade någon slags befattning på musikerförbundet. Han föreslog en spelning på ett julbord i Rydsgård, nere mot Ystadhållet. Det gällde ett återbud från någon och spelningen skulle ske blott tre dagar senare. Oscar gav mig inte en chans att ställa några frågor utan lade i hast på telefonluren med orden "Det fixar du, Paul. Jag är bortrest från och med nu!".
Ok, vi åkte dit, packade upp och blev bjudna på middag före spelningen. Jag hade alltid en idé om att hastigt uppkomna speljobb som man inte räknat med ska betala sig bra, så jag hade förhandlat fram generösa villkor där det ingick att våra fästmör inte "skulle behöva sitta ensamma en lördagkväll nära jul" så de fick följa med och bli bjudna på allt. Det dracks och åts med besked!
Men efter att vi spelat vår första låt blev stämningen konstig, och efter den andra förstod vi att som krögaren uttryckte det vid vår snara hastiga avfärd "bjöd på rätt musik men på fel plats". Maken till oborstat aggressivt beteende hade vi inte ens kunnat drömma mardrömmar om. Vi avbröt efter ett tag och lyckades hitta krögaren som satt längst in i köket och tryckte. "Här är gaget, det blir bättre om ni inte spelar".
Det blev till och med en artikel i lokaltidningen av det hela.
Ystadtåget från Malmö stannar i Rydsgård men jag skulle inte kunna tänka mig att stiga av där.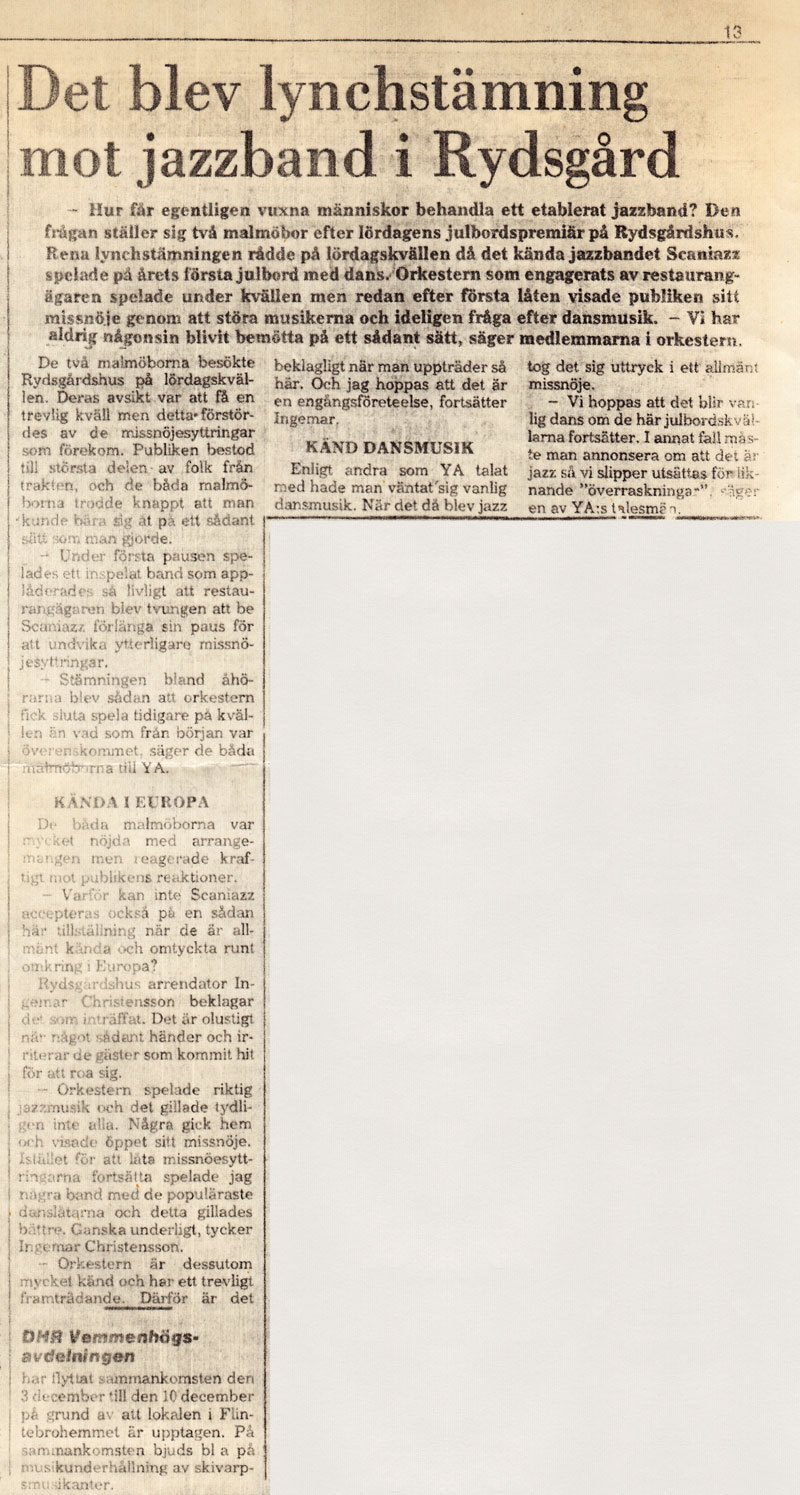 Appendix I
Här är en "dansvänlig" melodi som hade väntat sedan 1924 på att bli återanvänd. Inspelning från the Strathallan i Birmingham, England, 8 oktober 1978.
Scaniazz spelar Why Put the Blame On You.
Paul Bocciolone Strandberg, kornett
Stefan Edenborg, sopransax
Rolf Kärfve, banjo
Stefan Kärfve, tuba
Per Oldaeus, trummor