Scaniazz' first LP on Stomp Off had a skiffleish South Chicago feeling. The band is more relaxed on this session, so the rough skiffleish sound is even hotter.
Contributing to the success of this LP are a number of factors. New to the band was a hot clarinetist and alto player, Jan Nilsson. The return of Ulf Björkbom on soprano sax and clarinet (he was present on their Grown! LP but not on the Stomp Off record) not only added some intensity and texture but permitted some interesting reed interplay with Nilsson.
Trombonist Arne Højberg, leader of the Peruna Jazzmen of Copenhagen, Denmark (SOS 1003 and SOS 1020), joined this band from Malmö, Sweden in the spring of 1980. His idiomatic counterpoint seems to spark the band and perhaps allows the others to relax more in what they are doing, not having as many voids to try to fill.
Leader Paul Strandberg told me that it was helpful in the organization of the band on this record that they started by playing more looser-structured New Orleans jazz and blues than his previous band had, which brought them together stylistically.
The members of the band were not only well rehearsed but very comfortable with one another at the time these recordings were made in late December, 1981 and early January, 1982, as the band had just returned from a sixteen concert tour of Poland, followed by shorter visits to Holland, Belgium, and Stockholm.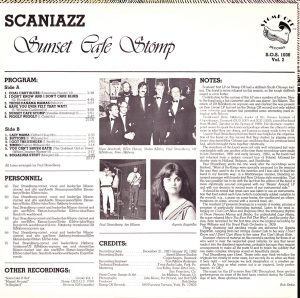 Paul Strandberg wrote me one week after the recordings were finished, "Most of the things were specially arranged for the sessions the way they used to do it in the twenties and I was able to lead the band in my favorite way: in a Mortonesque manner, blending arranged passages with loosely-knit New Orleans style ensembles. That this was possible has to do with the fact that this edition of the band is more stylistically assured compared with our 'Messin' Around' LP and with our decision to record more of our instrumental side."
It should be noted that great care was taken to use an instrumentation that best suited each tune (which incidentally added variation to the record), e.g., a piano on some tracks, the washboard on others, trombone on some, several with a second reed, etc.
The resultant LP present Scaniazz in a variety of modes, playing a program of particularly interesting material. Listen to the reed interplay on Coal Cart Blues and Bogalusa Strut, the intriguing rhythm of Those Panama Mamas and Bimbo, the understated Lazy Mama, the super-relaxed Have You Ever Felt That Way?, and the perky Buttons, here recorded for the first time since the original recording by Fess Williams and His Royal Flush Orchestra in 1929.
Three charming and exciting vocals are delivered by Agneta Engström, ranging from her stompy Sunset Cafe to her sexy I Don't Know and I Don't Care Blues to her sassy You Can't Shush Katie.
Scaniazz' Choice of material on this record is exiting for those of us who want to hear the neglected great vehicles for jazz that never made it into the dixieland repertoires, probably because they require arrangements to make all the parts fit and to retain the subtlety that can make complex interplay sound so beautifully simple.
Paul Strandberg says it best, "Some critic may think we follow the originals too closely in some cases, but we only do so when we think it feels right – not because we lack imagination or a creative approach. As long as what comes out is an inspired, lively performance it's OK."
The music on this LP is more than OK! Throughout, these are hot performances on some of the best tunes created during the Golden Age of Jazz, those glorious twenties.
NOTES by Bob Erdos
Year: 1981 | Title: Sunset Cafe Stomp | Ref: Stomp Off SOS1038