"That jazz" is referring to a miracle in music that happened in the beginning of 1900s when people from a big variation of ethnical and cultural background inspired each other to play in a new fashion. Luckily all this coincided with the development of new inventions like the phonograph recordings, photography and film so that it became in part documented and still can be enjoyed today. In my early teens I happened to be exposed to "that jazz" and it struck a string deep within me that has kept vibrating ever since.
Paul Bocciolone Strandberg


Latest post:
Radio Swingtime 88 – 2 mars 2002
Hur lät det när Fletcher Hendersons orkester pre-Armstrong hade hyss för sig med stock arrangements? Hur gick det för The Wolverines på Cinderella Ballroom i New York 1924? Hur lär det när bröderna Cobb spelade med en bassaxofonist? Kunde en New Orleans-trumpetare som Punch Miller disciplinera sig och spela arrangerad musik i Chicago, och hur lät Isham Jones' version av schlagern "Sweet Jennie Lee"? Stilla din nyfikenhet och njut därtill i dagens program!
88. MOTEN SWING – del 1
(1:09:17)
Moten Swing (Bennie Moten)
What a Dream (Sidney Bechet)
Jungle Drums (Sidney Bechet)
Chant in the Night (Sidney Bechet)
Pleasure Mad (Charlie Creath)
Market Street Blues (Charlie Creath)
Should I Reveal (Paul Whiteman)
A New Kind of Man (Fletcher Henderson)
The Meanest Kind of Blues (Fletcher Henderson)
The Birth of the Blues (The Revellers)
I Can't Give You Anything but Love (Sam Wooding)
Bull Foot Stomp (Sam Wooding)
Tiger Rag (Sam Wooding)
Sobbin' Blues (Ted Lewis)
Yellow Dog Blues (Ted Lewis)
Tia Juana (Bix Beiderbecke)
Lazy Daddy (Bix Beiderbecke)
Sensation (Bix Beiderbecke)
88. MOTEN SWING – del 2
(50:16)
If You Don't I Know Who Will (Bessie Smith)
Creole Love Song (Cab Calloway)
The Levee Low Down (Cab Calloway)
Blues in My Heart (Cab Calloway)
South African Blues (Junie Cobb)
Piggly Wiggly Blues (Junie Cobb)
Railroad Man Blues (New Orleans Willie Jackson)
Pig's Feet and Slaw (Tiny Parham)
Bombay (Tiny Parham)
Fat Man Blues (Tiny Parham)
New Orleans (Hoagy Carmichael)
I Keep Remembering (Isham Jones)
Good Evenin' (Isham Jones)
Sweet Jennie Lee (Isham Jones)
Picture of the day:
Available now: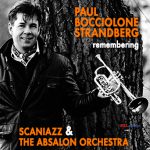 I'm proud to present a new double-CD in co-operation with jazzarkivet. The production is a retrospective collection of recordings and presents two of my most successful bands, Scaniazz (CD 1) and The Absalon Orchestra (CD 2), covering the period from 1975 until 1988 (…) continue readingRemembering CD