"That jazz" is referring to a miracle in music that happened in the beginning of 1900s when people from a big variation of ethnical and cultural background inspired each other to play in a new fashion. Luckily all this coincided with the development of new inventions like the phonograph recordings, photography and film so that it became in part documented and still can be enjoyed today. In my early teens I happened to be exposed to "that jazz" and it struck a string deep within me that has kept vibrating ever since.
Paul Bocciolone Strandberg


Latest post:
Radio Swingtime 100 – 1 november 2002
Nu är det dags för program nummer 100 som är det sista i programserien.
I denna fredagsmix av originaljazz finner vi stora namn som Joe Venuti, Jelly Roll Morton, Bessie Smith, King Oliver och Coleman Hawkins. Men även mindre uppmärksammade inspelning med trumpetaren Paul Mares och gruppen Original Indiana Five kan avnjutas.
100. MY PRETTY GIRL – del 1
(57:35)
My Pretty Girl (Fess Williams)
The Blue Room (Joe Venuti)
Sensation (Joe Venuti)
Low Gravy (Jelly Roll Morton)
Mushmouth Shuffle (Jelly Roll Morton)
Baby Please Loan Me Your Heart (Papa Charlie Jackson)
Nagasaki (Paul Mares)
Reincarnation (Paul Mares)
Maple Leaf Rag (Paul Mares)
The Land of Dreams (Paul Mares)
London Blues (King Oliver)
Camp Meeting Blues (King Oliver)
New Orleans Stomp (King Oliver)
That's My Weakness Now (Cliff Edwards)
100. MY PRETTY GIRL – del 2
(1:02:28)
St. Louis Gal (Original Indiana Five)
Jubilee Blues (Original Indiana Five)
Back O' Town Blues (Original Indiana Five)
Smack (Coleman Hawkins)
I Surrender Dear (Coleman Hawkins)
I Can't Believe That You're in Love with Me (Coleman Hawkins)
Dedication (Coleman Hawkins)
Frosty Morning Blues (Bessie Smith)
Haunted House Blues (Bessie Smith)
Dixie Vagabond (Cab Calloway)
So Sweet (Cab Calloway)
Minnie the Moocher (Cab Calloway)
Wolverine Blues (Don Ewell)
Wild Man Blues (Don Ewell)
Who Wouldn't Be Blue (Ted Weems)
You're Just a Great Big Baby Doll (Ted Weems)
If You Want the Rainbow (Ted Weems)
Picture of the day:
Available now: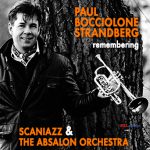 I'm proud to present a new double-CD in co-operation with jazzarkivet. The production is a retrospective collection of recordings and presents two of my most successful bands, Scaniazz (CD 1) and The Absalon Orchestra (CD 2), covering the period from 1975 until 1988 (…) continue readingRemembering CD