"That jazz" is referring to a miracle in music that happened in the beginning of 1900s when people from a big variation of ethnical and cultural background inspired each other to play in a new fashion. Luckily all this coincided with the development of new inventions like the phonograph recordings, photography and film so that it became in part documented and still can be enjoyed today. In my early teens I happened to be exposed to "that jazz" and it struck a string deep within me that has kept vibrating ever since.
Paul Bocciolone Strandberg

Latest post: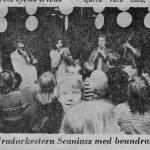 Scaniazz Story # 2 – I början av 70-talet hade den stora popvågen släkt ut Malmös rika jazzliv, men det fanns ett nytt hopp som emanerade från en lokal högst upp på Swing Inn som kallades Loftet. Där hölls jamsessions varje söndag. (…) läs merScaniazz Story #2 – Följ med på en odyssé!
Latest CD:
New Paul and His Gang CD:
Picture of the day:
Also Available now: