"That jazz" is referring to a miracle in music that happened in the beginning of 1900s when people from a big variation of ethnical and cultural background inspired each other to play in a new fashion. Luckily all this coincided with the development of new inventions like the phonograph recordings, photography and film so that it became in part documented and still can be enjoyed today. In my early teens I happened to be exposed to "that jazz" and it struck a string deep within me that has kept vibrating ever since.
Paul Bocciolone Strandberg


Latest post:
Radio Swingtime 76 – 9 november 2001
I Thank your father scatsjunger en ung Jack Teagarden -lagom till fars dag. Och pappa Teagarden går in och ut ur dagens program både som trombonsolist, sångare och orkesterledare och vi hör honom bland annat på sin ålders höst tolka Willard Robisons sorgliga ballad A Cottage for Sale. I övrigt njuter vi av Jabbo Smith på trumpet, Frankie Trumbauer med c-melodysax, akustiskt inspelad Duke Ellington, Original Indiana Five, bassaxofonisten Adrian Rollini, gitarristen Lonnie Johnson och många andra från jazzens skattkammare.
76. CRAZY QUILT – del 1
(1:04:36)
Crazy Quilt (Frankie Trumbauer)
Twelve Bar Stampede (Leonard Feather)
Feather Bed Lament (Leonard Feather)
Sorry (Ray Miller)
My Honey's Loving Arms (Ray Miller)
River Stay Away from My Door (Ethel Waters)
In My Dreams (Curtis Mosby)
Tiger Stomp (Curtis Mosby)
122 Blues (Claude Luter)
Decatur Street Tutti (Jabbo Smith)
Till Times Get Better (Jabbo Smith)
Beale Street Mama (Bessie Smith)
Slow Poke (The Original Indiana Five)
Two Time Dan (The Original Indiana Five)
When You Walked Out (The Original Indiana Five)
Rockin' Chair (Jack Teagarden)
Loveless Love (Jack Teagarden)
76. CRAZY QUILT – del 2
(55:09)
Let's Swing it (Eddie Condon)
Golden West Blues (Jesse Crump)
The Baltimore (Frankie Trumbauer)
You Gotta Beat Me (Trixie Smith)
Alabamy Bound (Fletcher Henderson)
I Done Told You (Lonnie Johnson)
Sweet Mama (Duke Ellington)
Stack O'Lee Blues (Duke Ellington)
Bugle Call Rag (Duke Ellington)
Cottage For Sale (Jack Teagarden)
Thank Your Father (Ben Selvin)
When I'm Housekeeping (Ben Selvin)
Let Me Sing and I'm Happy (Ben Selvin)
I'm in the Market for You (Ben Selvin)
Picture of the day:
Available now: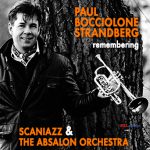 I'm proud to present a new double-CD in co-operation with jazzarkivet. The production is a retrospective collection of recordings and presents two of my most successful bands, Scaniazz (CD 1) and The Absalon Orchestra (CD 2), covering the period from 1975 until 1988 (…) continue readingRemembering CD