The name Scaniazz derives from Scania, the province in Sweden where the members of the band live. Malmö is the particular town, located on the East Coast of Sweden, about twenty miles across the straight from Copenhagen, Denmark.
Jazz fans tend to think of Sweden as a country where modern jazz has flourished. Probably so, but there are several outstanding traditional bands, namely Maggie's Blue Five, who also call themselves the Weatherbird Jazz Band, the bigger Kustbandet, and Scaniazz.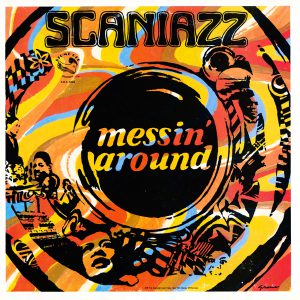 Scaniazz took on its present character in 1975, when Paul Strandberg, Hans Bendroth, Stefan Kärfve and singer Agneta Engström mutually agreed that the Dixieland music they were playing st didn't turn them on; they all longed for an earlier style of Jazz. In particular, the band drew its inspiration from the Clarence Williams Blue Five. A cornet-soprano sax front line with broad tuba sonority à la Cyrus St. Clair, propulsive rhythm from a washboard instead of drums, plus a special touch of Eva Taylor from vocalist Agneta Engström propelled Scaniazz into the world of hot classic jazz of the twenties.
Arrangements by Paul Strandberg assured that the band did not copy the originals but stayed within the spirit of each tune. Vitality was breathed into each performance as most of their dates were for dancing crowds, particularly at a place called Chinatown, where Scaniazz played for two years, and which was, prior to its close in l977 the most popular hangout for young people in Malmö, a town of more than 250 000.
Scaniazz has spent much of the past three years touring England, Northern Germany Belgium and Holland. And therein lies the tale of how it came to pass that a recording b1'this unusual band has been produced in the U.S.A.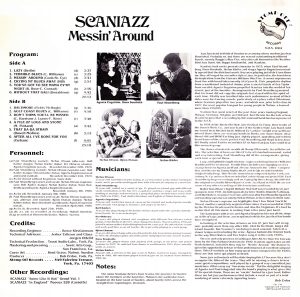 In 1978 at the Breda Old Style Jazz Festival, Eva Farey, then leader of the Sunset Music Co. and now leader of the Golden State Jazz Band, told me I must hear this hot band. Without Eva's advice I might very well have missed them' there are so many bands in Breda, one must choose. Hear them I did and WOW! Exciting jazz. tightly played, appealing and seldom heard tunes of the classic period. Paul Strandberg and I kept in touch until I finally asked Paul to record this LP so American jazz fans could hear this unusual group.
The choice of material. as with all Stomp Off records, lies with the artists. The selection of tunes on this LP is by all standards unusual, varied and very interesting. Paul Strandberg did all the arrangements, giving each tune a special flavor.
Lazy, a delightful Irving Berlin tune is given a driving Clarence Williams Washboard Five treatment. Terrible Blues includes an engaging vocal exchange between Agneta and Paul. Messin' Around is the "other" composition not the one by Jimmy Blythe that Carol Leigh recorded with the Original Salty Dogs. This Messin' Around was composed by Doc Cook and Johnny St. Cyr and was first recorded by Cookies Fingersnaps in 1926. Paul Strandberg sings exceedingly well on Crying My Blues Away. Alex Hill did the original vocal with Albert Wynn's Creole Jazz Band in 1928. We are not aware of any other recordings of this lovely tune until now.
Walter Donaldson's big hit Without That Gal was recorded by six jazz groups in June 1951 . including vocals by Gene Austin, Blanche Calloway, and Ethel Waters. Scaniazz's version, with a vocal by Paul Strandberg and an outstanding soprano sax solo by Stefan Olsson, revives this excellent tune.
Stefan Olsson's soprano sax highlights Don't You Think You'll Be Missed, another completely neglected tune since it was recorded in 1925 by the Fletcher Henderson Orchestra and also the Virginians. It's hard to realize that all this music is coming from a five piece jazz band.
The band plays with verve and Agneta Engström lets out all the stops on A Pile of Logs and Stones an exceptional vehicle for jazz that few bands hare recognized. In looking at the s€election of tunes on this LP, jazz fans will recognize probably more than any other title, That Da Da Strain, long a dixieland favorite. But Scaniazz's rendering is most unusual. Taken at a slower tempo and including the verse, Agneta harkens the listener back to the way Ethel Waters and Eva Taylor sang it in the early 1920's.
The one and only previous recording of After All I've Done for You was done by the Tiny Parham Orchestra in l950. Scaniazz again takes on difficult material. and while they may be "Messin' Around," the listener is given the opportunity to hear serious performance5 of excellent compositions. This LP reminds us how many great tunes composed in the 1920's there are that never get played or heard.
Some jazz enthusiasts will hesitate buying this LP because they don't recognize the titles of the tunes. They will be missing a chance to hear some great compositions, well Played by a group of very committed jazz musicians. Others may say "too many vocals." But the delightful singing of Agneta and Paul integrated into the band's playing is what gives this LP its special charm. There are no "vocals" backed by a jazz band. Rather these are hot jazz performances that include a vocal as part of a total rendering of some extremely appealing tunes.
NOTES by Bob Erdos
Year: 1980 | Title: Messin' Around | Ref: Stomp Off SOS1004