Det är sällan drömmar slår in. Jag skrev brev och skickade demos till jazzfestivalen i New Orleans och 1982 fick jag det svar jag hade drömt om.
Om man gillar jazz och i synnerhet tidig jazz kommer man inte ifrån att staden där den nya mirakelmusiken tog fart i början på 1900-talet utövar en lockelse. Man visste så klart att det hade hänt en hel del sedan dess men man ville känna atmosfären och ta del av det som fanns kvar. Det finns jazzälskare som åker dit från Sverige nästan varje år och de som stannar i månader. Som de största entusiasterna framstår Örjan Kjellin och Lars Edengran som utvandrade på 60-talet och lyckades med konststycket att göra karriär i sina drömmars stad.
Jag ville också dit men tänkte att jag helst ville komma in genom huvudentrén, inte smyga dit som turist. Jag ville kort sagt åka dit för att någon där ville höra mig och mitt band spela vår version av deras musik. Det var så klart inte helt lätt; att vårda och bevara sin ödmjukhet inför allt vad den staden kan bjuda på och samtidigt ta lite plats, att försöka komma till sin rätt. Hur det gick? I några kommande episoder ska jag försöka att skildra en del av det som hände under några tumultartade, men samtidigt obeskrivligt harmoniska veckor när vi i Scaniazz åkte över för att spela på New Orleans Jazz & Heritage Festival i maj 1982.
Det var mitt första besök i USA och jag var inte riktigt van. Inte van vid att få telefonsamtal direkt när man satt ner väskorna i hotellvestibulen från folk som ville vänslas. Tempot skruvades upp direkt! En av de som hörde av sig var Lillian. På sitt visitkort presenterade hon sig som som "Singer, Actress, Entertainer & Hair Designer". Hon charmade oss genast och imponerade också snart med sin sång och sin scenutstrålning. Lillian bidrog starkt till att vi kände oss välkomna och omhändertagna och det beslöts att vi skull göra en gemensam konsert i slutet av vår vistelse.
Appendix I
Hasse och hans washboard fick tillbörlig uppmärksamhet som bygdens stolthet inför New Orleans-resan!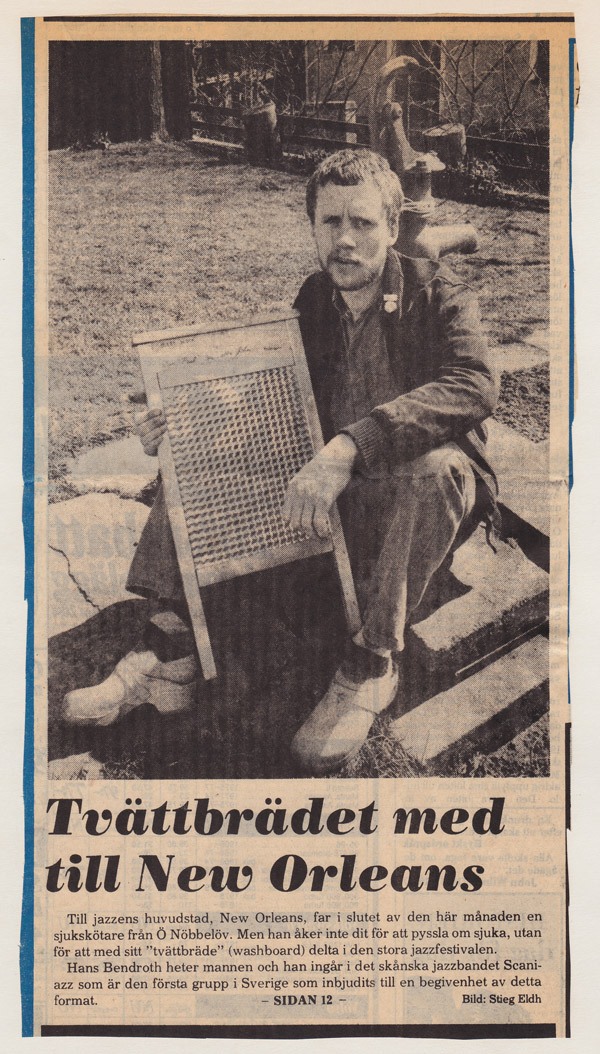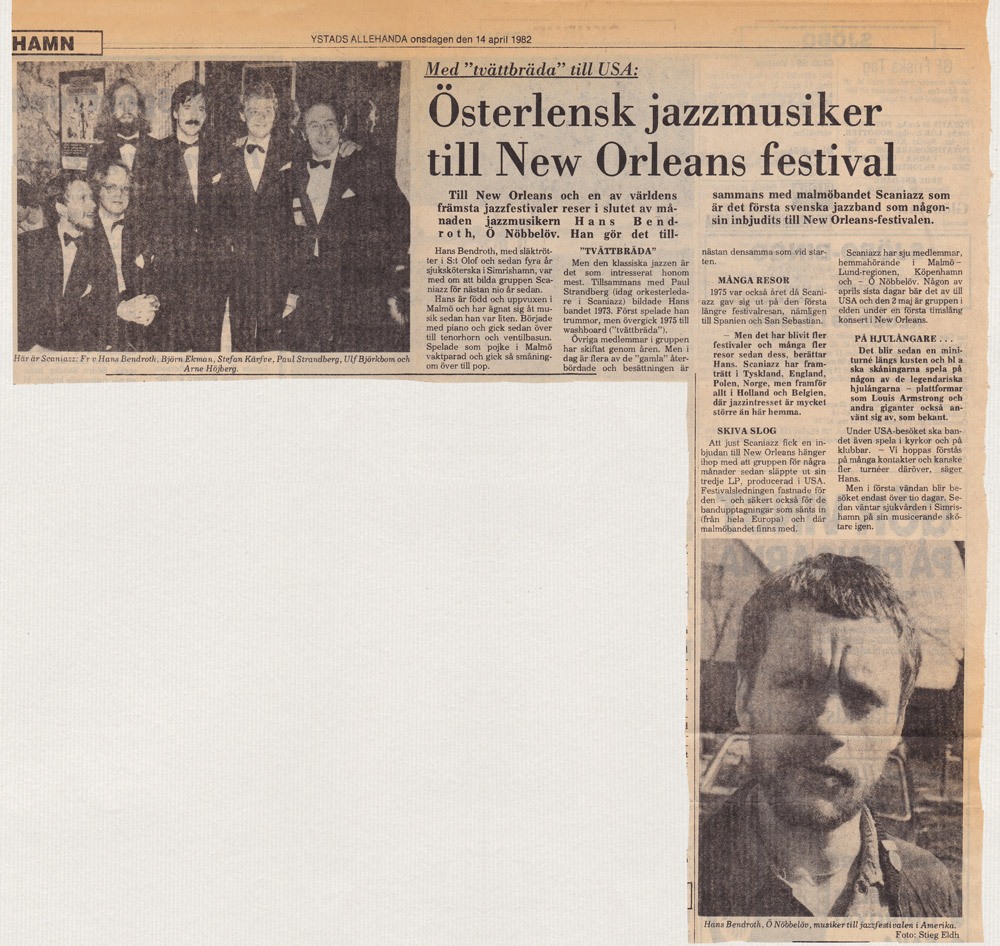 Appendix II
En låt på vår repertoar som verkligen gick hem hos Lillian, hennes syster och deras kompisar var den här av Jabbo Smith.
Scaniazz spelar I Got the Stinger. Inspelat live på The Norwegian Seamens Church i New Orleans, den 8 maj 1982.
Paul Bocciolone Strandberg, kornett, sång
Arne Højberg, trombon
Ulf Björkbom, sopranosax
Jan Nilsson, klarinett
Björn Ekman, banjo
Morten Gunnar Larsen, piano
Stefan Kärfve, tuba
Hans Bendroth, washboard