Kecskemét, Ungern
Paul and His Gang
En lång mercedes tilldrog sig den polska vägpolisens intresse så "Paul and his Gang" stoppades på sin vidare färd mot en festival i Ungern. När poliserna sett att alla papper var i ordning kom de på idéen att bötfälla oss för att inte alla i baksätet hade på sig bilbältet. Och boten skulle betalas kontant i polska pengar vilket innebar att vi fick åka tillbaka till närmaste stad och leta upp ett växlingskontor. Poliserna väntade snällt vid vägkanten i någon timme och fick sedan sina pengar plus några väl valda ord från Dymitr som tyckte att det var bättre förr.
Efter konfrontation med ett antal gränsvakter i gråa tjocka uniformer var vi så i Teckoslovakien där vi pausade i en vägkrog som kunde varit motiv för en målning av Edward Hopper. Skillnaden bestod främst i att här slevade man upp vin som soppa ur rostfria kärl.
Väl framme i destinationsorten Kecskemét i Ungern togs vi om hand väl, borgmästare, drinkar, för oss obegripliga långa tal. En fin musiker som några av oss redan spelat med var också där, den norske pianisten Morten Gunnar Larsen.
Kvällens konsert gick fint och när vi sent pustade ut på vårt hotell dök en välväxt herre upp som vi igenkände som Joe Muranyi, klarinettisten som bland annat spelat med Louis Armstrong. "Hi Joe, do want a sip of our scotch?" Det blev en all-night-long session med vår nyfunne amerikanske vän.
Han var märkbart frustrerad av att vi i sann malmöitisk anda inte imponerades av hans anekdoter, i synnerhet inte av dem han berättade om Bix Beiderbecke, vi kunde dem utantill redan. Men det kom en ny dag och vi tog en fin promenad tillsammans i det bleka solskenet. Joe var på gott humör och berättade att han hade ungerska anor och var nyfiken på folket, mest på kvinnorna om man ska säga som det var. På ett torg satt det några gamla gummor från Transylvanien och sålde hemarbeten och jag köpte en bordsduk som jag envisats med att använda tills den tyvärr föll samman för ungefär ett år sedan.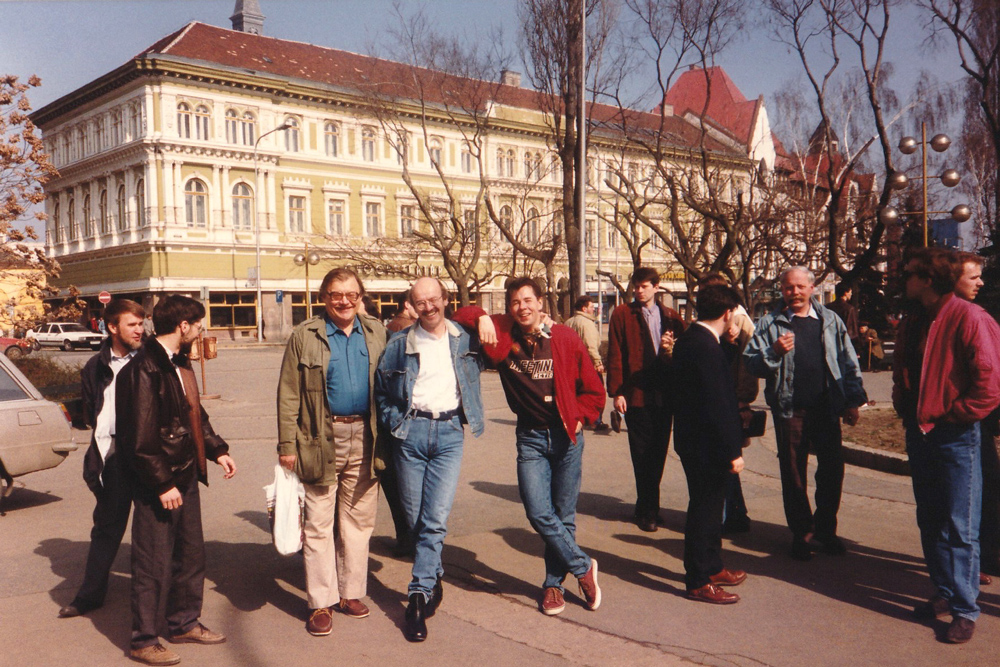 På bilden från vänster: Lars-Erik Ström, Tamás Ittzés, Joe Muranyi, Frans Sjöström, Paul Bocciolone Strandberg, Morten Gunnar Larsen.