Vi var färdiga med den alltmer röriga krogen vid Slussplan. Min sambo Neta hade gjort en bejublad debut med Billie Holiday-influerad sång där, och nu började hon växa in i bandet alltmer. (Hon hade en musikalisk bakgrund som trummis i Malmö's enda tjejpopband bland annat.)
Vi hade haft en träff med sill och snaps hemma hos Uffe i Lund strax efter jul då vi lyssnade på mina julklappskivor -från mig själv förmodligen. En var med Humphrey Lyttelton's fina inspelningar från tidigt 50-tal och en annan var med Clarence Williams Blue Five. Om den förstnämnda stod för en del inspiration i form av trumpetspelet och låtar som "Trogs Blues" så blev den andra mer som en katekes där vi hämtade hur mycket som helst av allting. Vi ville spela alla låtarna med Armstrong och Bechet och vokalinslagen av Eva Taylor passade Neta perfekt. Vi valde en slogan som löd "There'll Be a Hot Time in the Old Town Tonight" och började spela låten med samma namn som vår signaturmelodi.
Scaniazz spelar There'll Be a Hot Time In the Old Town Tonight. Inspelat i Bokskogen, våren 1975.
Paul Bocciolone Strandberg, kornett, sång
Ulf Björkbom, sopranosax
Björn Ekman, banjo
Stefan Kärfve, tuba
Hans Bendroth, washboard
Agneta Engström, sång
Appendix I
Scaniazz anlitades flitigt av studentnationerna i Lund. Sydskånska och Värmlands hade populära jazzdanser på fredagar och mest folk var det på Lunds Nations lördagskvällar. Här är ett exempel på en effektiv annons inför en spelning den 4 juli, 1975 – det behövdes inga förklaringar kring musiken!
Sydsvenskan 4 juli 1975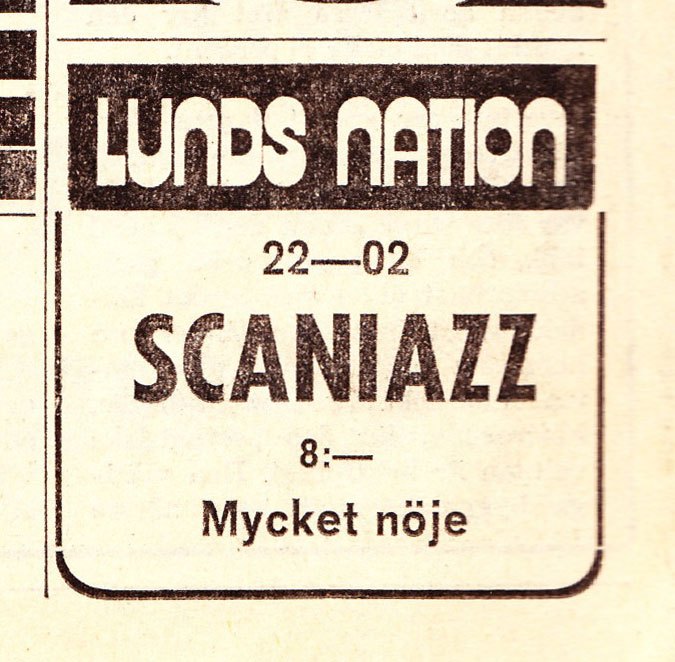 Appendix II
Scaniazz på Sydskånska Nationen i Lund 1974.
Paul Bocciolone Strandberg, Hans Bendroth, Bertil Olofsson, Agneta Engström, Stefan Kärfve och Ulf Björkbom.