Vid den här tiden, hösten 1975 bodde merparten av bandets medlemmar på Hyregatan på Gamla Väster i Malmö. Replokalen låg längre ner på samma gata. Vårt hus var från sekelskiftet och orenoverat med delning av toaletter i trapphuset. Hyresgästerna var unga och gamla i en skön blandning. Vi i Scaniazz träffades nästan dagligen och repade, smidde planer -och lyssnade noga och länge på originaljazz. En dag stötte jag på Björn på stan och vi gick tillsammans och tittade på en skivrea i NK-huset. Jag övertalade honom utan svårighet att köpa en komplett samling med det fina tidiga swingbandet Mc Kinney's Cotton Pickers, en orkester som jag älskat sedan 15-års ålder men som han inte hade fullständig koll på. "Vi ses i kväll och lyssnar på skivorna" sa vi.
På gården, när jag kom hem, mötte jag Stefan. "Vi ska höra Mc Kinney's i kväll hemma hos mig" sa jag. Vi väntade hela kvällen men ingen Björn dök upp förrän vid halv tolv tiden. "Är det försent?" frågade han och hade skivhögen under armen. "Nej kom in, vi sätter på kaffe". När vi skildes något hålögda vid 9-tiden följande dag hade man "Okay Baby", "If I Could Be with You" och alla de andra odödliga inspelningarna satta på random play inne i huvudet, ett tillstånd som varade under resten av veckan. Så kunde det gå till på Hyregatan 4!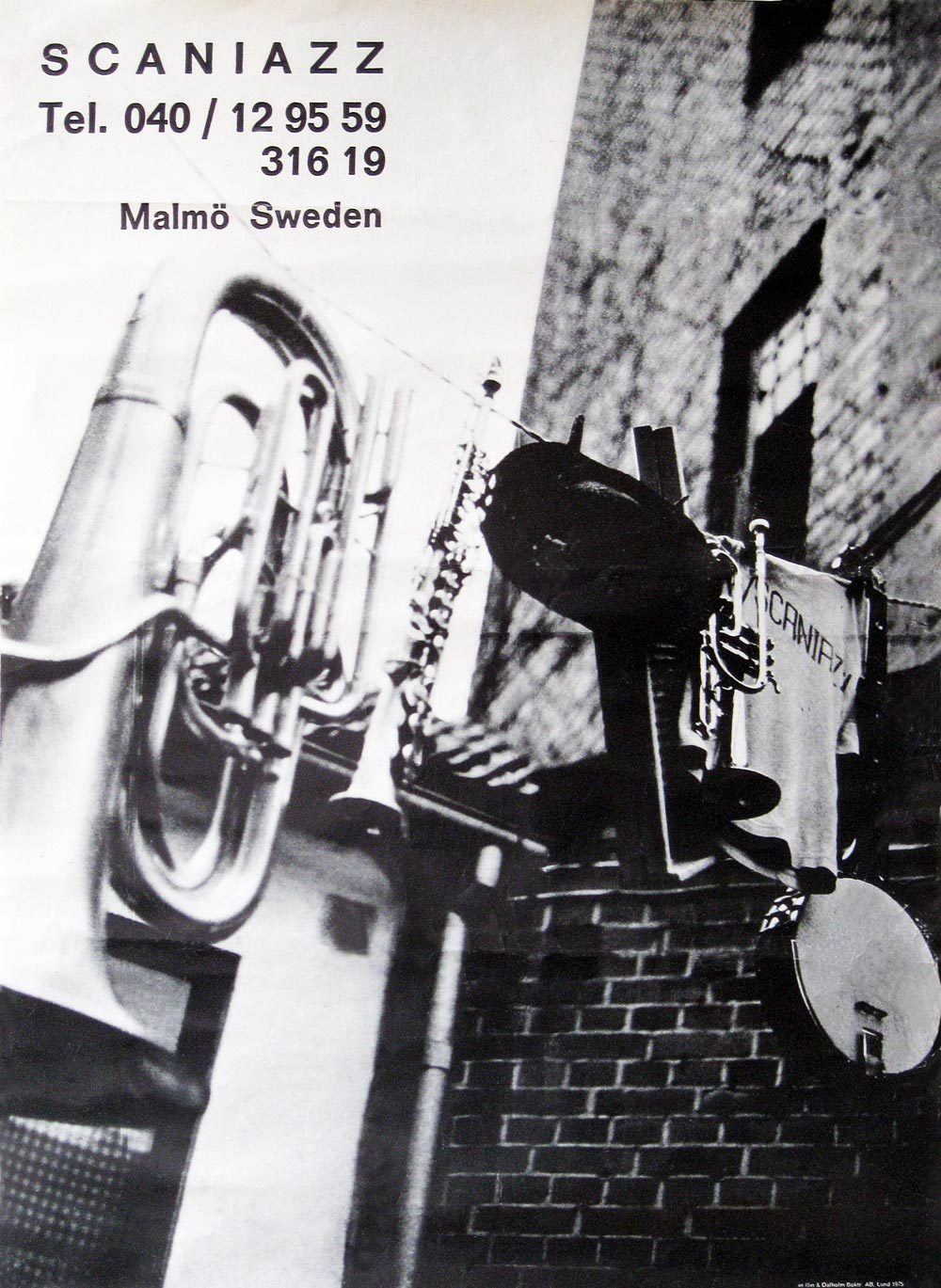 Appendix I
En annan flitigt spelad favorit var den här:
Scaniazz spelar Of All the Wrongs You've Done to Me, live inspelning på Värmlands Nation, Lund.
Paul Bocciolone Strandberg, kornett
Ulf Björkbom, sopranosax
Björn Ekman, banjo
Stefan Kärfve, tuba
Hans Bendroth, washboard
Agneta Engström, sång
Appendix II
Vårt första besök i Landskrona var den 19 september 1975. Det skulle bland andra följas av ett framträdande på deras stora festival (med Count Basie) några år senare.