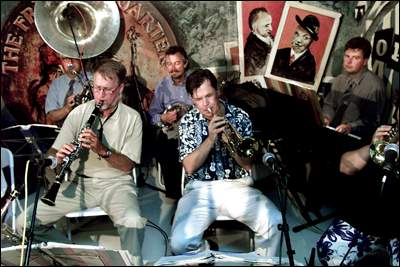 Paul Bocciolone Strandberg, cornet player, singer and teacher of early jazz, started as a bandleader in 1973. Since then he has been heading several successful jazz orchestras and taken part in the major events on the traditional jazz scene in Europe. At the appearance at the New Orleans Jazz & Heritage Festival in 1982 he was honored with the "Certificate of Merit" by the Mayor of the City. Paul and his Gang was founded in 1990 and won the most prestigious orchestra competition at Europe's biggest festival for traditional jazz in Breda, Holland two years later.
I first heard Dymitr Markiewicz already back in 1965 when he visited Sweden for the first time to play trombone with a rather rough but enthusiastic Polish orchestra. The multi- reed man Lars-Erik Ström was to me a well established « modern » musician. l happened to give him a call at a moment when he had just quit one of Sweden's (and Europe's) leading Big Bands. That was about ten years ago.
Then once when I was picked by the pupils themselves to lead a seminar at Malmoe's College of Music. l found among the others a young pianist, Sven Bjerstedt, eagerly waiting for me. Apart from his more artistic assets, Sven is known for his ability to accompany singers, going in and out of any key. Once when we played in a Billie Holiday-style group together, the piano was found one semitone too low, right at the moment when we were about to start our four hour gig. Sven simply transposed everything including piano introductions and Teddy Wilson solo-transcriptions! He had a good sleep in the car on the way back.
When l was in desperate need of a tuba player in the beginning of the 80's, l came across Jonas Eilert, who came from the brass band tradition playing also trombone and trumpet but from then on specializing on sousaphone. From the beginning of the band there have been many occasions where we had to play without a piano (this was before the digital piano's came about) and to serve us the chords Dennis Johnsson on banjo came in handy. When our drummer had to leave the band to concentrate on a carrier as trumpet player and we just could not find another one with the right beat or style, we chose to let Dennis, whose ticking banjo has been part of the jazz scene in Malmoe as long as I can remember, come in the band which added drive and safety.
Then we took a daring step. We added another very personal voice to this well balanced, strong line-up. Marie-Christine « Kiki » Desplat from Paris, surely one of the few first-class female cornet players in the world, was a breath of fresh air to the well reputed French traditional jazz scene when she entered it at the end of the 80's. l first heard her play at the Breda Jazz Festival with The Watergate Seven in 1991. A friend of mine called me and said: « Look at this girl ! I never saw anyone so happy about what he or she is doing in any profession or activity. » And my reaction when she played is best described by a reference to jazz history; Armstrong when hearing Bix said, "There's someone as serious about music as myself".
Two trumpet players or cornet players on stage-it's seldom an immediate success. Often you hear one out blow and diminish the other or both using too much force while competing, thus making it a private affair of little musical value. With Kiki, it became at once fruitful: a challenge that keeps the interest at a high pitch and an easy interplay when you understand the logic in the others playing.
In the arrangement department we all share duties nowadays ; Kiki, Sven, Dymitr and myself.